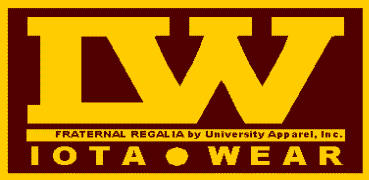 IotaWear.com (TM) by University Apparel
Custom clothing and novelty items designed specifically for the Brothers of Iota Phi Theta® and Iota Sweethearts.
---
IotaWear.com Home Page
---
Welcome to IotaWear.com (TM) by University Apparel, Inc. University Apparel, which is distinguished to be recognized as Iota's first National vendor, has been creating new and exciting Iota Phi Theta® paraphernalia since 1988. Many of the designs and symbols that you see across the country were originally designed by University Apparel, Inc., and they have now become the standard for Iota Phi Theta® and Iota Sweethearts Inc.
This website of paraphernalia, dedicated strictly to the Iota family, originally debuted on September 19, 1998, in conjunction with the Fraternity's 35th Anniversary. As our offerings expanded, the site was given it's own domain name, IotaWear.com (TM), which debuted August 14, 2001, shortly after the Conclave in New Orleans.
As we have been for the past 27 years, University Apparel continues to be dedicated to providing originally designed symbols and quality paraphernalia items, for the Men of IOTA and their Sweethearts. Our IotaWear.com (TM) website is but one extension of that commitment.
Throughout these pages, you will find everything for the IOTA family --
from Bags & Caps to Shirts to Jackets to Novelties.....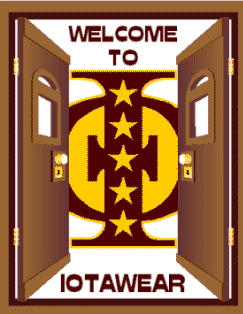 click THE DOOR TO ENTER
---
Contact Information
Store Address

Store Hours (by Appointment)

FRATERNAL REGALIA
by University Apparel, Inc.
8120 Mall Parkway STE 425
Lithonia, GA 30038

Monday - Friday
10:00 am to 6:00 pm
Saturday
10:00 am to 4:00 pm
Telephone Customer Service Hours:
Monday - Friday - 11:00 am to 5:00 pm
Saturday - 11:00 am to 4:00 pm
Phone:
404-835-0839
Electronic mail:
Click this link to e-mail us for any questions you may have.
---
Thank you for Visiting IotaWear.com.
Please sign our public GUESTBOOK by clicking here.
IN GOD WE TRUST.
WE SALUTE OUR MEN & WOMEN IN UNIFORM
AND PRAY FOR THEIR SAFE RETURN.
---
[Directory | Symbols | Bags & Caps | Novelties & Gifts | Blankets ]
[Jackets | Jerseys | Shirts | Sweatshirts | Sweaters | Sweetheart Directory]
[ Iota Phi Theta National Homepage ]
[ IotaWear HOME | ORDER NOW | Request an Order Status ]
[Mason/OES | About Us | Guest book | The GREEKSHOP]
Privacy Statement/Terms of Use
IotaWear is a division of University Apparel. IotaWear.com (TM) and the IotaWear/IW logo are the sole property of University Apparel. Neither the stylized IW, IotaWear nor IotaWear.com may be used without written authorization. For more information about this website, please contact the webmaster.
The items shown on this website are not marketed nor offered for sale as ready-made or in-stock retail items for any specific organization, unless specified as such. Photos are shown as examples of the work that may have been done in the past and/or that may be made for your particular fraternal organization.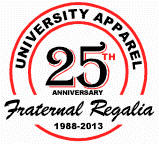 Copyright © 1998-2021 [Iota Wear (TM)/University Apparel]. All rights reserved.
Information in this document is subject to change without notice.
Other products and companies referred to herein are trademarks or registered trademarks of their respective companies or mark holders.
8120 MALL PARKWAY #425 ~ LITHONIA, GA 30038

Greek letters, name, or insignia of particular fraternal organizations are not necessarily being sold under a license or other sponsorship from those organizations. It is the product manufacturers' intent that sales be only to and/or for members or pledges of the represented fraternal organizations.
"Special order purchases from local vendors are tantamount to a consent to use agreement or a limited license..."
Sarah Evans Barker, Judge, United States District Court, Southern District of Indiana
So ordered, 25 October 2004